Flip Flop Designs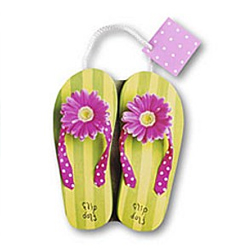 Flip flops are items of footwear that are ubiquitous and they can also be used to make a fashion statement. They are as iconic if not more than a pair of jeans and have been used by man from the very early days of our civilization. It pays to choose your flip flop designs with care as the right pair of flip flops, if chosen properly, can help you look your best at the beach and also at a party.
Flip flops – endurance value
There are many flip flop designs to choose from including those which will suit your short dress or which suits a particular age group. The flip flop has endurance value and has seen many eras as well as generations come and go and yet it has endured all the changes that have been made to it.
Sets you apart
The right flip flop designs will help to set you apart from others that are also wearing flip flops. If you want to use unique flip flop designs, then you will need to find a design shop to customize your order for you. However, if you have good handyman skills, then you can even create your own flip flop designs and make a pair of flip flops that suit your style and tastes perfectly.
Create your own design
When it comes to creating your own flip flop designs, you will want to check out dollar stores where you can purchase a pair of flip flops in a desired color and at a very low cost. Next, be sure to visit a few craft stores where you can pick items that will help you with your flip flop designs. These items include artificial flowers, puff paint, glitter and flat beads as well as some glue.
With these items in hand, you can set about creating your own flip flop designs. The first thing you will need to do is find some space where you can do your work. Next, keep all the tools and accessories on hand and then start out by using the flowers and beads as well as glitter (which must be of the same color) and use some puffy paint in order to create an outline for the flower. This helps in giving your flip flop designs a more three dimensional effect.
You can also make your flip flop designs look glitterier by adding glitter to the bands of your flip flops. Some glitter on the edges of the flip flops is also a good idea. Next, take the beads and then evenly space two of them and put them on each band of the flip flop. Glue them in place with the hot glue that you had purchased earlier.
To apply finishing touches to your flip flop designs, you should take some more of the hot glue and apply it in the middle of the straps on either flip flop. To these straps, secure an artificial flower which will help to complete your flip flop designs. It is important to handle the hot glue with care as a misstep can lead to serious burns. So, be sure to keep the glue away from your skin and also away from children.