Mens Flip Flops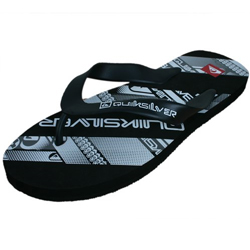 Traditionally we think of flip flops as just another cheap rubber sandal with that ever-present rubber thong between the toes. Mens flip flops can actually be crafted from leather as well because it isn't the rubber that makes it a flip flop but the lack of a strap at the back! Many manufacturers still call them by their original name, 'thongs,' but since this has taken on a whole new meaning, the family appropriate name of 'flip flops' is most often used because of the slapping noise this type of shoe makes when walking. Men's flip flops can range from just a few dollars a pair to $100 or more, depending on the materials they are made from and if they are designer originals or off brand shoes.
UGG Hammond Mens Flip Flops
One of the most popular fashion shoe manufacturers at the moment is UGG, but styles are not limited to the ever present boots that have become so trendy. As a matter of fact, UGG also has a line of men's flip flops that are made from soft and fluffy sheepskin on the inner side if the T-strap that holds the shoe on. One style that is extremely popular is labeled as UGG Hammond and is extremely fashionable in a fall tan color.
Teva Mush Flip Flops for Men
Because mens flip flops should be comfortable above all else, the softer they are, the better they will wear. Teva Mush flip flops fit that description to the T. They are crafted with arches that are soft and as the manufacturer describes them, "squishy," The T-straps are tubular nylon webbing and the EVA topsoles and midsoles cushion the feet and absorb shocks. The outsole is manufactured to provide traction on a wide variety of surfaces.
Crocs for Men – Flip Flops
Crocs, of course, are known for those rubber slip on shoes that have become so popular over the past few years. Unlike standard Crocs that have a closed toe and open slingback, the manufacturer also has a line of mens flip flops that are designed for athletes. Manufactured with Croslite Ag, Crocs Prepair Flip Flops are designed to reduce peak pressure by as much as 50% while also reducing peak muscular effort by as much as 24.6%. Not only do they help to reduce fatigue, this shoe was designed to improve blood flow which significantly speed recovery time. Although this shoe is listed as a mens flip flops style and is available in mens sizes, it is actually a Unisex Croc that can be worn by women as well.
There is no need to feel that mens flip flops are simply cheap dime store rubber shoes because a great many trendy shoe designers are fashioning flip flops for style as well as comfort. While you can still pick up a pair for just a few bucks if that is what you are looking for, you can also feel comfortable wearing designer mens flip flops to any casual affair that calls for a better quality shoe.