Womens Flip Flops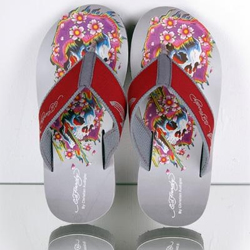 Some flip flops are fashioned so that either men or women can comfortably wear them and they even come in sizes that will fit either sex. However, more and more fashionable designers are creating lines that are specifically for the more delicate sex. Womens flip flops are designed not only to suit her feminine side, but to provide comfort and support in the areas of the foot where she most needs it. If you are looking for a flip flops sandal that was designed with women in mind, the best advice would be to go with a footwear designer that specializes in sandals and flip flops. Believe it or not, there is as much science behind the shoe as there is fashion sense.
Teva Womens Flip Flops
One of the lesser known, but exciting designers of womens flip flops is Teva. There are 17 different styles to choose from in a wide variety of colors. These flip flops sandals range anywhere from $26 to $70 depending on the materials used in manufacturing the shoe and of course, the amount of labor and craftsmanship involved.
Havaianas Flip Flops Sandals for Women
Everyone knows what Havaianas flip flops are. These are among the world's most fashionable and widely worn flip flops to be found. There are 23 different styles to choose from, some of which are designed for beachside comfort while others are fashionable enough to be worn at the dressiest of occasions. What comes to mind here are the Slim Metallic Logo and Slim Crystal Metallic (Limited Edition) womens flip flops that can be worn for fancier occasions when comfort is called for.
Womens Reef Flip Flops
There are literally three pages of Reef womens flip flops in a great variety of styles for almost any occasion. While each design was created with women in mind, three that stand out as being extremely feminine are the BLINGIT ON, IN CAHOOTS and REEF LEXI styles that are chic and oh-so feminine. Reef womens flip flops can be found online as well as in retail stores nationwide.
Sanuk for Women
Another of the trendiest manufacturers of womens flip flops (mens as well!) is Sanuk. There are 27 styles currently available for women, some of which are quite unique. The Casbah is so adorable with the net T-straps that you just won't find elsewhere. Two other styles that are unlike anything you may have seen are the Casablanca and Monaco. Moderately priced, most Sanuks cost less than $40 and are among the most environmentally friendly womens flip flops anywhere on the market.
You could always go with a unisex style, but there is something about a flip flop that was designed to emphasize the feminine side of a woman that sets them apart from other casual shoes. Some womens flip flops can cost $100 or more while other feminine flip flops sandals range anywhere from $20 to $40 depending on the style, designer and materials from which they are crafted. There is no end to possibilities in womens flip flops which is why no woman should be without several pair at the very least.