Flip Flops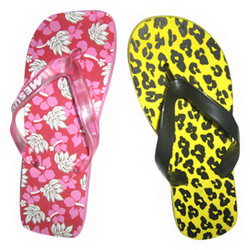 Flip Flops
Years ago flip flops were called by another name, which of course has taken on another meaning altogether these days! Originally flip flops were known as 'thongs' because that is exactly what they are. The thin band that fits between the big toe and the second toe is actually a thong, but because of the slapping sound these flat, outdoor style shoes make when hitting the pavement they have come to be known as flip flops. Actually, although they are most often worn for casual wear such as for a day at the beach, there are also a number of fashionable designer styles which can even be worn out on the town.
Classic Summer Flip Flops
When flip flops first hit the market they were simply rubber thongs, perhaps in plain colors or designed with an assortment of seaside pictures on the inner sole. Most often they were found at beachside shops along the boardwalk as well as at pharmacies and large supermarkets, where of course you can still find them today. They were actually a sort of 'disposable shoe' because they were so inexpensive. You can still find them at reasonable prices as a matter of fact, such as men's flip flops from Old Navy that can be found online for as little as $3.50 a pair!
A Designer Shoe is Born
However, as time went on and they grew in popularity, manufacturers began making them from a variety of other materials, both manmade and natural, and today's styles can be quite costly depending on the designer. Some fashionable high end designers have an assortment of flip flops that cost upwards of $100, and often even more than that. While Michael Kors has a pair retailing for $32, Burberry has a logo-detailed pair which retail for $95. The Burberry shoe is made in Italy with their signature check inner footbed and a rubber sole. Other trendy designers who have their own line are Marc Jacobs and Ed Hardy.
Where and When to Shop for the Best Deals
Although they are a season shoe, you can find great deals all year long if you know when and where to shop. The best time of year to buy flip flops is off season during the cold winter months because, of course, they are not likely to be in high demand at that time. While you may not find them on the shelves of your local shoe stores unless you live in South Florida or Southern California, you will find a great selection online year round. Even in the summer, prices tend to be better online because of eCommerce merchants have much lower overhead and can afford to discount product. This is the time to stock up for the summer ahead.
Flip flops are most often made of rubber, but if the shoe has a thong between the toes it can be rightfully classified as a flip flop! Whether you are looking to spend a few bucks for a pair to wear to the beach, or close to $100 for a fashionable pair from a high end designer, there are plenty of styles to choose from twelve months out of the year.
Back to Top